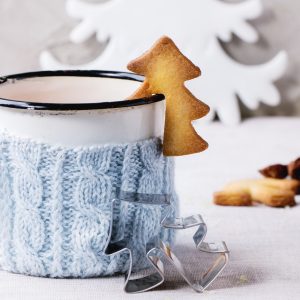 Do you hear that song ringing in your ears?  "Happy Holidays, Happy Hol-i-days, While the merry bells keep ringing, may your every wish come true."  We're in the holiday mood at SilvaFox Window Cleaning and wanted to share a little of our holiday spirit with you.
Today, we're going to share with you a favorite and super easy cider recipe.  DISCLAIMER:  I'm sure it's posted somewhere on the back of some package, but I'm not sure which one.  This is not an original recipe.  And, I'm also going to share with you a semi-healthy recipe for cookies that is an old family favorite.  Again, I'm not sure if it is an original in our family, but it's one I love and it has a few modifications to make it a little healthier.  Finally, we're going to share a few tips about how to get through the holidays and make sure you're ready for the new year.
Apple Cider Recipe
Stuff You'll Need: (if you click the links below, it will send you to Amazon where you can purchase these and have them sent to you.  We get a very small portion of this sell.)
Let's make it!
Put your apple juice in your stock pot on the lowest setting you can on the stove.  Let it slowly heat up.  When the apple juice starts to heat up significantly (you can still touch it without burning yourself) empty the Red Hots into the pot and begin to stir.  Add a few cinnamon sticks as you stir.  Once all of the Red Hots are completely dissolved, your cider is ready.  At this point, you can let it continue to heat on the lowest setting or serve it up to you family and guests.
This one is always a hit!
Chocolate Chip Cookies
What you'll need:
1c butter
1c coconut oil
1 1/2 c.Erythritol
1 1/2 c brown sugar (Gives such a great taste your cookies)
4 eggs
1/4 c. water
4 c flour – I usually use wheat
2 tsp. baking soda
12 oz chocolate chips – I try to stick to bittersweet
4 c. oatmeal
1 c walnuts
Let's make it!
Pre-heat oven to 375 degrees.
Cream the butter, coconut oil, Erythritol, and brown sugar together.  Add eggs and water; mix well. Separately, sift together flour and baking soda.  Add to mixture.  Mix until just blended.  Stir in chocolate chips, oatmeal and walnuts.  This will be hard to stir.
Drop by spoonfuls onto cookie sheet.  Bake at 375 degrees for 10 minutes.  Once you remove from the oven, let it sit on the pan for one minute until transferring to a cooling rack.
This will make about 48 cookies – but you can still plan that they will not last long.  Sometimes I double the batch and then store some of the dough in the freezer to pull out a few days later to keep the cookies coming.
Another crowd favorite!
Tips for the holidays
Save one of your Amazon boxes (any other box will do, too) and plan to cut it apart .  After you cut the box into pieces, make little cuts on the edges of two sides of the box.  When you remove your lights from the house and trees, you can wrap them around the portion of the box you cut.  The little notches will help you keep the cord from becoming tangled.
Invest in a plastic storage container from any of the big box stores – make sure you purchase one of the red ones.  This will help identify it in your garage later.  Store your holiday decor here.  It will be safe and dry when this season comes again.
De-stress!  Remember this Holiday Season, when you're stressed and dealing with time and financial constraints, your reason for the season.  If you're throwing a party or planning to see family, take out 3-5 minutes to think about who you will be seeing and what you like most about that person (everyone has something good about them).  Concentrate on these things before your event starts.  You'll have a bunch more good will and joy as you've just remembered all of the beauty in those around you.
Money worries – If you're just worried about money, stop spending. It's great to give smaller, more meaningful gifts.  Then, each person feels special and will remember their gift for years to come.  Another great idea is instead of exchanging gifts, is to do something together.  Looking at holiday lights while drinking hot chocolate is a pretty cheap experience, but can bring the family or friends closer together and experiences are the best kinds of gifts.  You can always purchase mugs from Dollar Tree and pass those out as a memory of the occasion.  No one has to know your financial situation, simply tell those you love you're doing an 'Old Fashioned Christmas' this year.
Put out the Welcome Mat – Clean off your front porch.  (30 minute chore that can make all of the difference!)

Clear the cob-webs from the porch ceiling and walls (we use a broom).  This usually takes about 3 minutes.
Get a ladder and clean your light fixtures.  You can give them a good brushing up in about 5 – 10 minutes each.
Clear any unnecessary clutter from your front porch. 10 min
Once all of the dust settles, sweep off the porch and dust your welcome mat.  About 3 minutes
If you have any windows that are directly on the porch, clean those windows inside and out.  Should take about 10 minutes.
Finally, replace that welcome mat and you're ready to invite your guests into your home!  
We hope your holidays are full of joy, laughter, and love…and that your every wish will come true!
The Silva's